DIY Shiplap Fireplace Makeover: A Step-by-Step Guide
This post may contain affiliate links, which means I'll receive a commission if you purchase through my links, at no extra cost to you. Please read full disclosure for more information.
Fireplaces serve as the heart of a home, providing warmth, comfort, and a focal point for gatherings. If you're looking to add a touch of rustic charm to your living space, a shiplap fireplace makeover might be the perfect solution.
Shiplap, with its horizontal or vertical wooden planks, offers a timeless aesthetic that can elevate the ambiance of any room. In this blog post, we will explore the process of using shiplap to transform your fireplace, covering topics such as feasibility, cost, installation, and considerations for gas fireplaces, and I will give you all the how to's for tackling this DIY project!
How do you install shiplap over a fireplace?
Installing shiplap over a fireplace requires careful planning and execution. Here's a quick overview of the step-by-step guide we will go into to help you get started so you can accomplish this DIY!
Prepare the surface and plan and measure
Build a stud wall
Measure, cut and paint shiplap
Attach the shiplap
Finishing touches
Installing Mantel
Materials and supplies needed:
Shiplap boards (I recommend using pre-primed MDF or pine). I used theses ones here.
2×4 boards for framing
Baseboards to match current boards if applicable
Brad nailer (mine linked here) or hammer and nails
Screw Driver (mine linked here)
Wood screws
Stud Finder
Utility Knife
Wood filler
Caulk
Sandpaper (120 grit and 220 grit)
Primer (if you buy boards not already primed)
Paint
Paint roller, brushes or Paint Sprayer
Drop cloths
Painter's tape
Level
Safety goggles
Detailed Step by Step Guide
Step 1: Prepare the surface and plan and measure
Before starting any project, it's important to plan and measure carefully and also prepare the surface.

Consider the size and shape of your fireplace, and how much shiplap you'll need to cover the area. Measure the height and width of the wall surrounding the fireplace, as well as the distance from the floor to the mantel. Sketch out a rough design of the shiplap pattern you'd like to use.
If you have an existing fireplace, you'll need to remove any trim, mantel, or other decorations before installing the shiplap.
Start by cleaning the existing fireplace surface thoroughly. Remove any loose paint, debris, or other obstructions. It's essential to have a smooth and clean base for the shiplap installation.
If you're building a new fireplace, or building around current one, be sure to build a frame out of 2x4s.
For a new fireplace, make sure to cover the frame with fireproof material, such as cement board, and add any necessary venting.
If you have a builder grade fireplace that was already there, like I did, use a utility knife and work your way around until you can pop the existing fireplace out, from there, if you want to add dimension, you can build a frame around like I did.
Important note: Make sure you look up your local fireplace code requirements before installing any combustible material around. The National Fire Code requires all combustible material to be at least 6 inches from the opening of the firebox unless you have a zero clearance fireplace. Zero clearance means the fireplace has its own insulation and it needs zero inches of clearance (distance) from combustible materials in the home. Basically a zero clearance fireplace is a self-contained firebox that is designed to be installed almost anywhere in your home
My fireplace is zero clearance and gas, however, I did still install framing 6 inches from the box opening.
Mine was one piece, so it was easier to remove after I worked my way around it with my utility knife.
Step 2: Build Stud Wall
Build around existing fireplace opening. (Make sure you look up your city code for how far of an opening you need).
Measure the area around the fireplace where you want to build the stud wall. Mark out the measurements on the floor with chalk or a pencil.
Use a stud finder to locate the studs in the existing wall on either side of the fireplace. Mark the location of each stud with a pencil.
Cut pieces of 2×4 lumber to the length of the wall you want to build. These will be the side plates of the stud wall. See picture above. For the side supports, using wood screws, screw the middle board to the stud, and then screw the a board on each side to create dimension. Mine is 4 inches deep.
Cut two additional pieces of 2×4 lumber to the height of the top of the fireplace opening to the top of the wall.
Cut several smaller pieces that will be screwed in horizontally to the studs in wall to be the support for the two additional vertical boards in the middle. Screw those two additional boards into these horizontal boards using nail screws – I used 4 inch screws.
Depending on your wall, and materials used, you may need to build your stud wall first, then bring in and attach to wall. I was not building a fire place from scratch, so I just screwed directly on the wall.
Note: Cut your 2×4 lumber to size using a saw, or you can even have your local hardware store cut for you. Use a level to ensure that the frame is straight and level. You'll want to attach the frame to the existing wall studs using wood screws. Use your stud finder to make sure you are hitting the studs before nailing/screwing.
Step 3: Measure, cut and paint shiplap
Take precise measurements of your fireplace, accounting for any obstacles like mantels or protruding vents. Use these measurements to cut your shiplap boards accordingly.
It's a good idea to leave a small gap between the boards to allow for expansion and contraction due to temperature changes.
I painted tops and bottom of my shiplap first. This will help make sure you get the lapping section of the board painted well. Once nailed, it is hard to paint between the boards.
With your measurements and plan in hand, it's time to start cutting the shiplap!
Begin by cutting your shiplap to the correct and desired length and width for each section of the fireplace surround. You can use a saw or a miter saw to make precise cuts.
You will cut each of the ends of the front boards at 45 degrees. The side boards will then meet the front boards, and will need to also be cut at 45 degrees to get you that 90 degree angle.
If you have any angles on your ceiling, you will need to use a T-Bevel to figure out what angle to cut.
Cutting front board at 45 degree angle
Cutting side boards at 45 degree angle
Test-fit the board against the framing and side boards to ensure a seamless fit. Adjust the cut as needed.
Repeat for each board, taking care to ensure that the angles are consistent and the boards fit tightly together.
Step 4: Attach the shiplap
Once all the boards are cut and fitted, attach them to the framing with your Brad nail gun, nails or screws, using a level to ensure they are straight. I personally used brad nails to secure the shiplap to the wall studs, reinforcing its stability.

I started at the top and worked my way down, attaching each piece of shiplap with my brad nail gun.
Continue adding boards, using shims if needed to maintain consistent spacing. Cut boards to fit around corners and the fireplace insert, ensuring a seamless look.
I left a gap of 4 inches where I planned on putting my mantle. You can do this, or install mantle directly on boards. If you install directly, make sure you mark where the studs are behind the shiplap boards.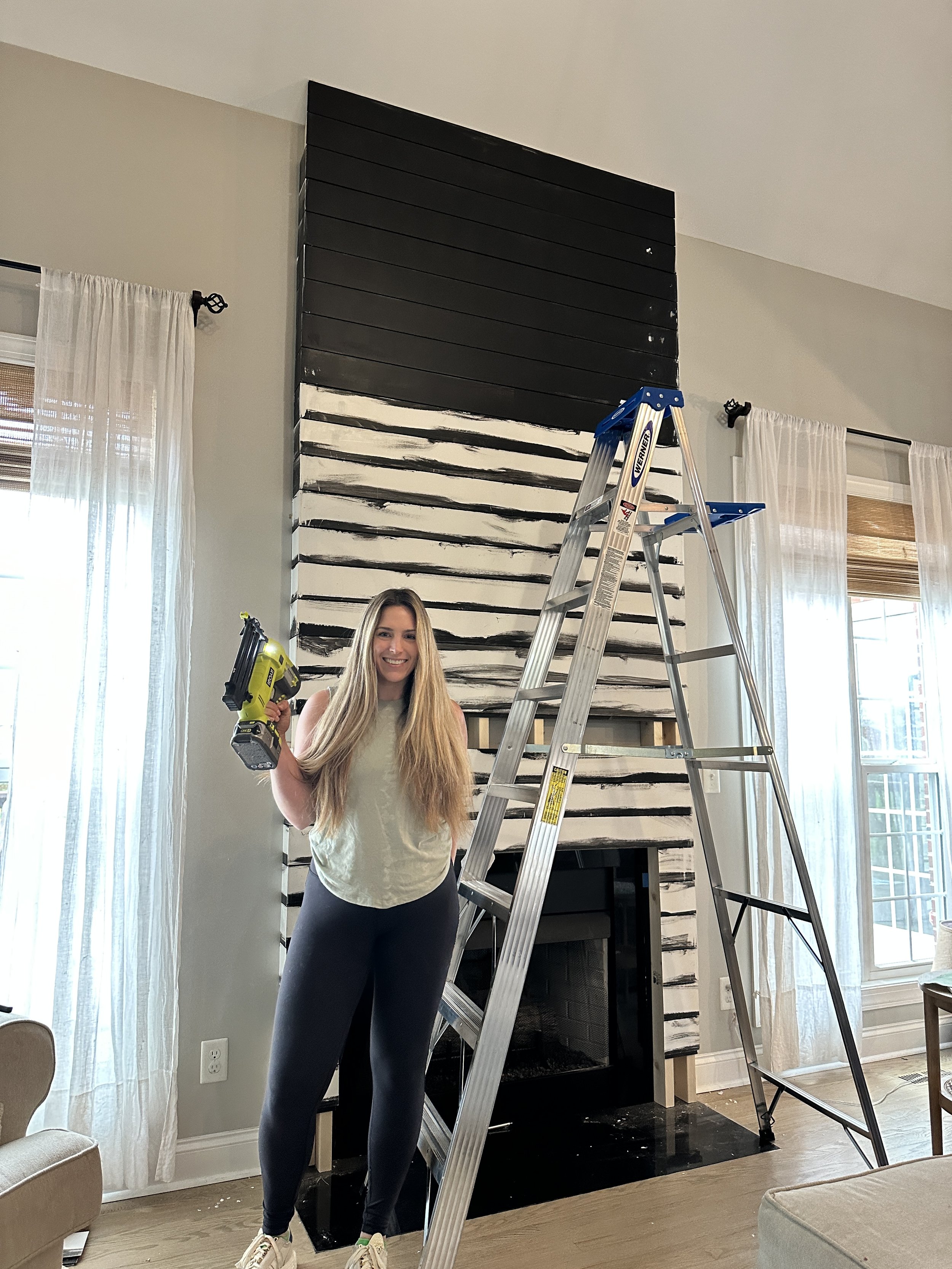 Step 5: Finishing touches
Once the shiplap is installed, fill any gaps between the boards with spackle and caulk the side the meets the wall. Sand the surface to create a smooth finish, and paint or stain the shiplap as desired.
You may want to paint the shiplap a contrasting color to the wall for added impact – we painted ours "Tricorn Black" in flat.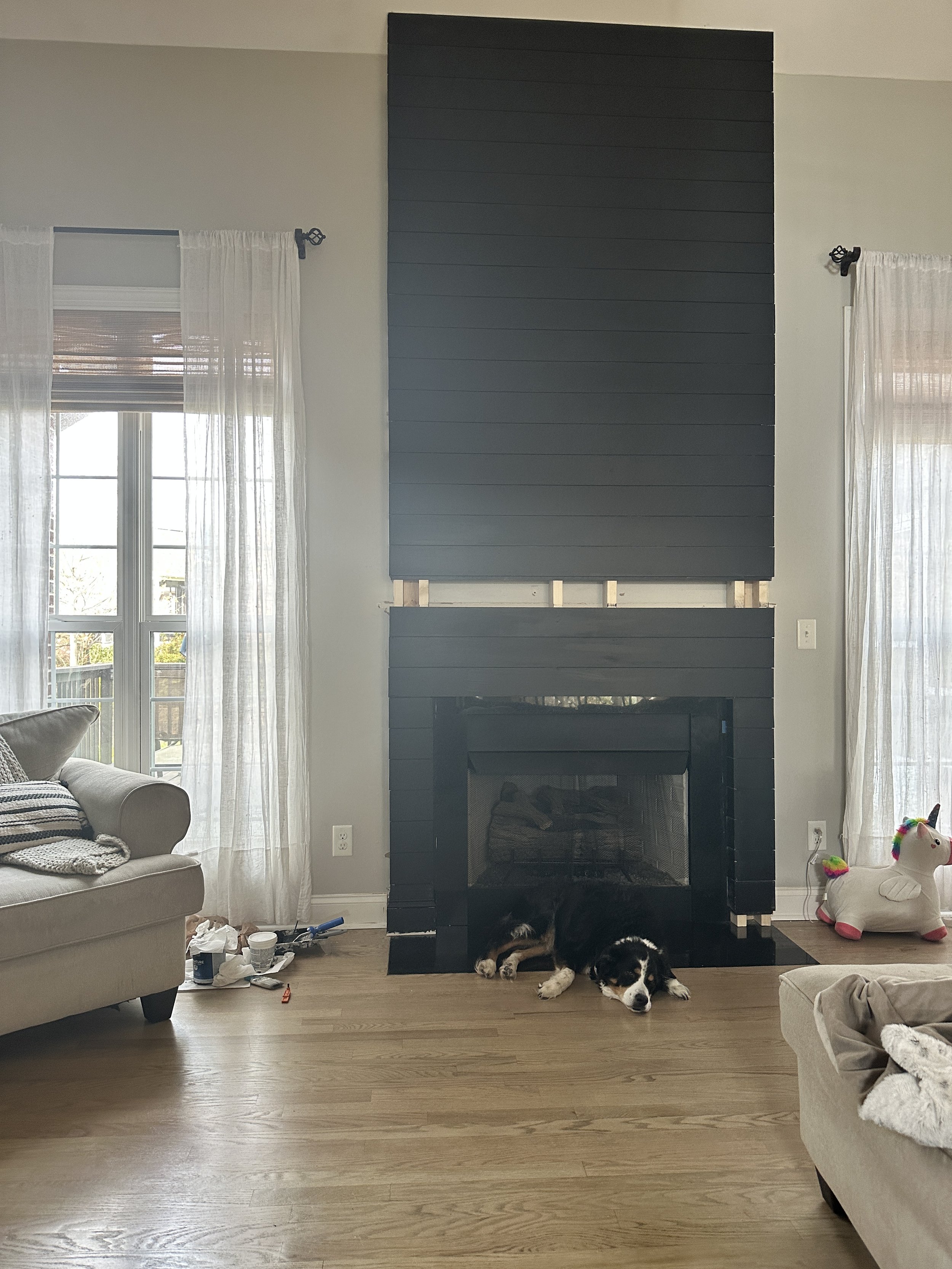 I used a paint gun to spray the final coat for a seamless finish. Make sure to prep well with tape if you take this route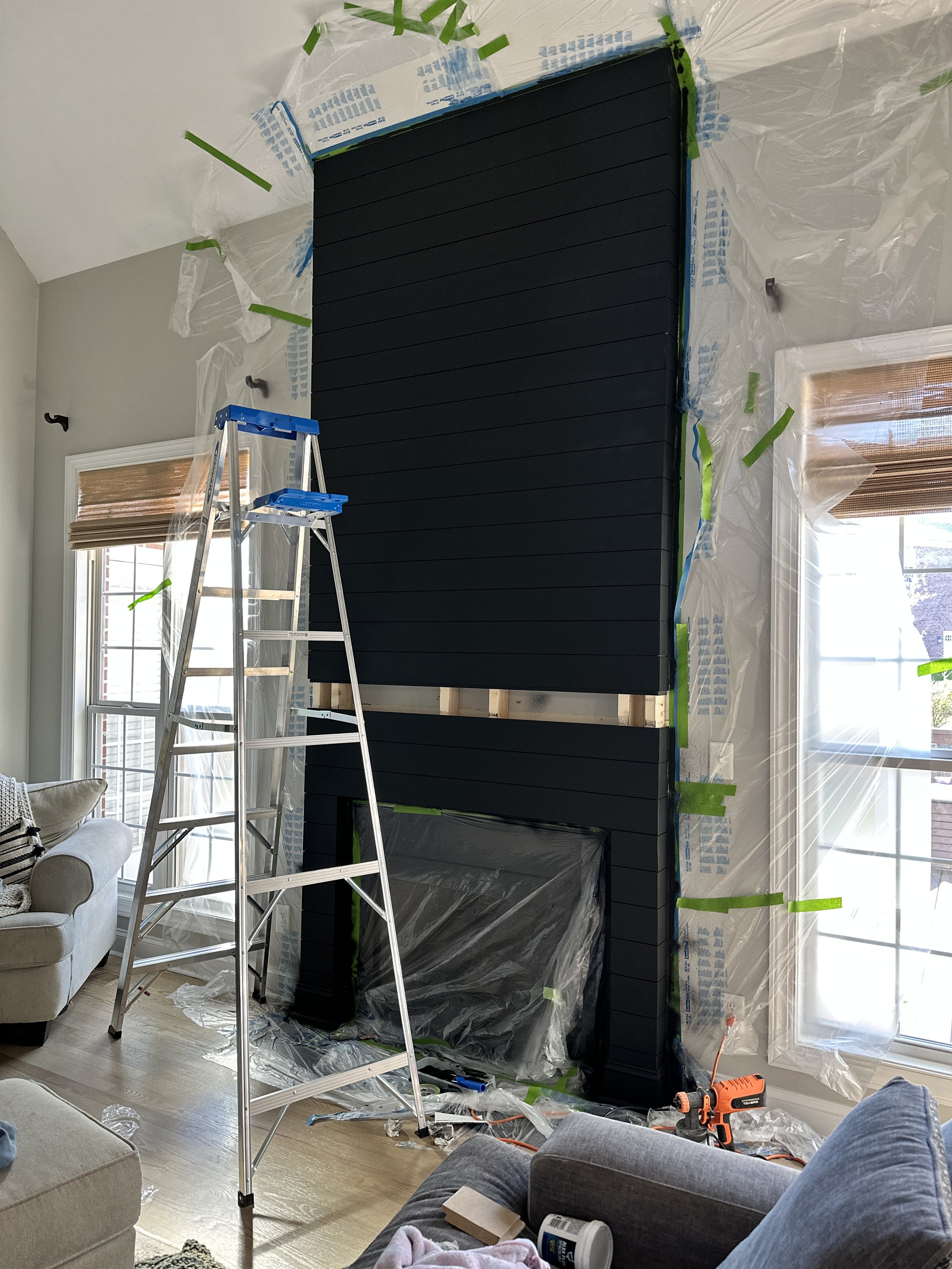 Add any trim or molding to the bottom of the fireplace if you want to match what you currently have. I painted the trim on my fireplace the same color as the shiplap.
If you plan to mount a TV above the fireplace, ensure that you install a proper TV mount and follow manufacturer guidelines for clearances and weight limits.
Conceal TV cords and cables by running them through the wall or using cord management solutions for a clean and organized appearance.
Install trim pieces around the corners and edges of the shiplap fireplace to provide a polished look if you like as well. I left mine as is.
Step 6: Installing the Mantle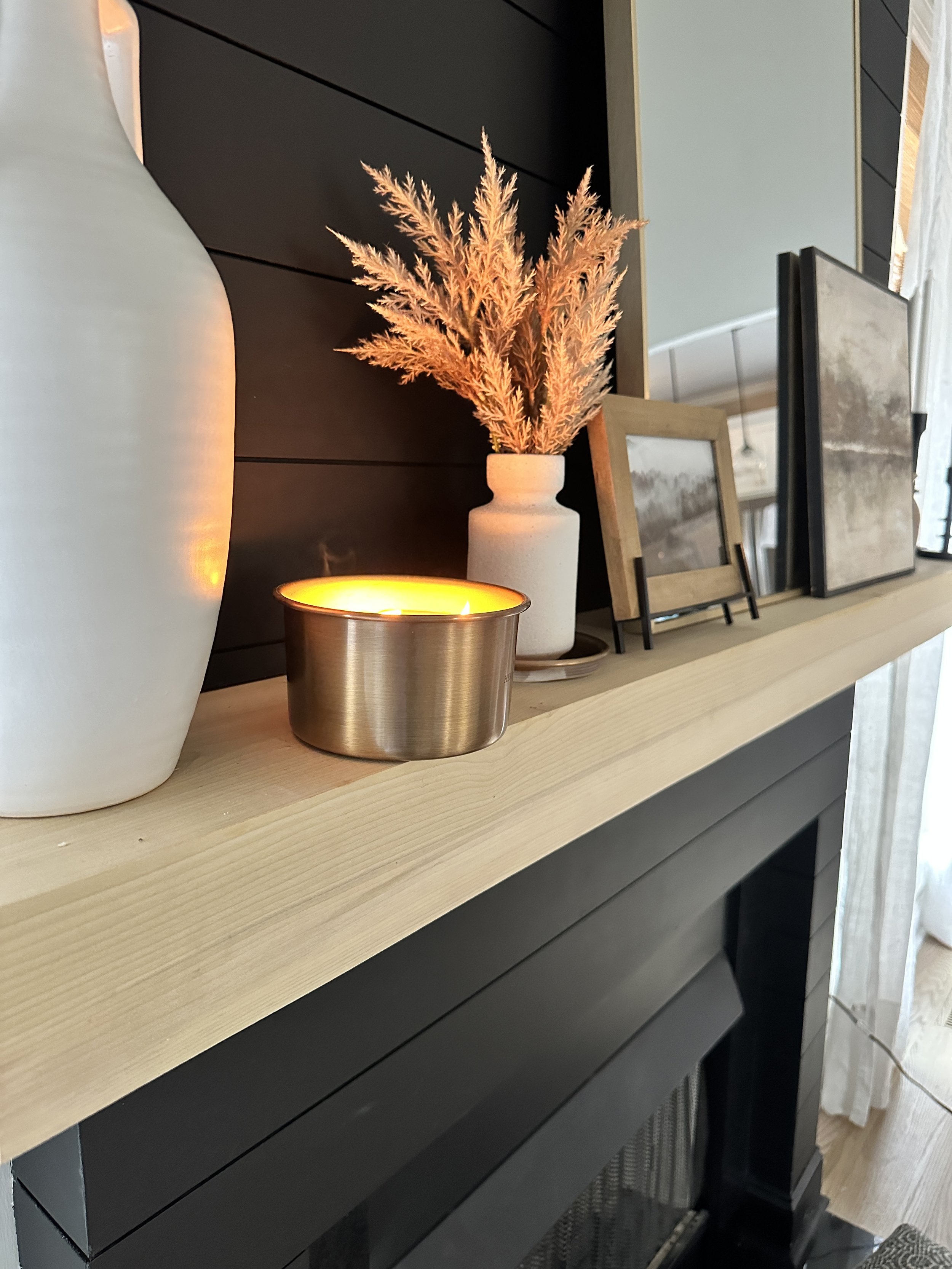 Adding a wood block mantle can be a great way to add some character to your fireplace. You can purchase wood from your local hardware store, however, I do recommend going to a local lumber store/warehouse, as they will have more options to choose from.
I was able to find mine at a local lumber warehouse and they cut it down to size for me. Once you have your wood of choice, you will want to do the following:
Sand, stain, or paint. I started by staining mine, but did not like the overall color, so I striped back down to its natural color and finished it off with a poly coat.
Once the mantle is finished, you will want to install your brackets to hang the mantle. I went with hidden ones that are installed directly on the studs.
If you go this route, I highly recommend also purchasing the jig and screw bit for it – this will help you get perfect holes in your mantle, so that you can hang level.
Measure and line the brackets up evenly across and install directly into the studs.
Next, you will want to drill the holes into your mantle. Make sure you measure the distance from top to bottom to match what where you installed the brackets.
Once your holes are drilled, line the mantle up and push into brackets to hang. You will likely need a second set of hands to help with this part depending on how heavy your mantle is.
Once the mantle is up, you are done! Style to your preference and you have a beautiful new center piece for your room!
Why Consider a Shiplap fireplace?
Shiplap fireplaces have gained immense popularity in recent years, and for good reason.
The use of shiplap can transform a standard fireplace into a stunning centerpiece, adding warmth, character, and visual interest to any living space.
Here are some pros and cons to consider when contemplating a shiplap fireplace:
Pros of a Shiplap Fireplace
Aesthetic Appeal:
Shiplap offers a timeless and rustic charm that can enhance the overall aesthetics of your fireplace and the entire room. The horizontal wooden planks create a visually pleasing pattern that adds texture and depth to the wall.
Versatility:
Shiplap is highly versatile and complements a wide range of interior design styles, from farmhouse to coastal and beyond. Its clean lines and natural wood tones can easily adapt to any decor, making it a versatile choice for homeowners.
Customization Options:
Shiplap allows for various customization options, enabling you to create a fireplace that perfectly suits your style and preferences. You can choose the type of wood, paint or stain colors, and even experiment with different installation patterns, such as vertical or diagonal shiplap, to achieve the desired look.
DIY-Friendly:
Building a shiplap fireplace yourself can be a fulfilling and rewarding experience. With the right tools and resources, you can take control of the entire process, from measuring and cutting the shiplap to attaching it to the wall and adding the finishing touches. DIY projects can offer a sense of accomplishment and allow for creative expression.
Cons of a Shiplap Fireplace
Time and Effort:
Building a shiplap fireplace requires time, patience, and effort. From the initial planning stages to the final installation, the process can be time-consuming, especially if you're not experienced in DIY projects. Consider your availability and commitment before embarking on this endeavor.
Skill Level:
While shiplap installation can be relatively straightforward, it does require some basic carpentry skills and knowledge. If you're not confident in your abilities or lack the necessary tools, hiring a general contractor or professional installer might be a better option to ensure a smooth and successful project.
Why Consider DIY Shiplap Fireplace Construction?
Building a shiplap fireplace yourself can be an exciting and fulfilling undertaking. Here are a few reasons why you might want to consider the DIY approach:
Cost Savings:
Hiring a general contractor or professional installer can add significant costs to your project. By taking on the DIY route, you can save money on labor expenses and allocate your budget towards high-quality materials or other aspects of your home improvement.
Creative Control:
DIY projects offer complete creative control. You can personally select the type of shiplap, paint or stain colors, and customize the fireplace to suit your specific vision. This level of customization allows you to create a unique fireplace that perfectly reflects your style and taste.
Learning Experience:
Undertaking a DIY shiplap fireplace project provides an opportunity to learn new skills and gain hands-on experience. From measuring and cutting the shiplap to attaching it to the wall, you can expand your knowledge of carpentry and improve your DIY capabilities.
Sense of Achievement:
Successfully completing a DIY project can bring a great sense of accomplishment and pride. From the planning stages to the final result, you'll witness your vision come to life and enjoy the satisfaction of creating something beautiful with your own hands.
Considerations for DIY Shiplap Fireplace Construction
Plan the project thoroughly, including measuring the desired height and width of the shiplap installation. Ensure you have the necessary tools and materials before starting.
Research and educate yourself about the installation process, including watching tutorials and seeking advice from experienced DIYers.
Take your time during the installation process to ensure accuracy and precision. Properly level the shiplap boards, and use a brad nailer to secure them firmly.
If you encounter challenges or feel overwhelmed at any point, don't hesitate to seek professional assistance or advice. A general contractor or professional installer can offer guidance and ensure the project's success.
In conclusion, a shiplap fireplace can bring a touch of rustic elegance and visual appeal to any living space.
With the ability to customize and the versatility to adapt to various design styles, shiplap fireplaces have become a popular choice among homeowners.
While DIY construction requires time, effort, and some basic skills, it offers cost savings, creative control, and a rewarding learning experience.
By considering the pros and cons, as well as your own capabilities, you can decide if building a shiplap fireplace yourself is the right choice for you. With proper planning and attention to detail, your DIY shiplap fireplace project can be smooth sailing, resulting in a stunning and personalized addition to your home.


Commonly asked questions surrounding DIY'ing a fireplace
Can I use shiplap on my fireplace?
One of the first questions that may come to mind is whether it's feasible to use shiplap on your fireplace.The answer is a resounding yes! Shiplap is a versatile material that can be applied to various surfaces, including fireplaces. Its clean lines and rustic texture can add character and visual interest to an otherwise plain or outdated hearth.
How much does it cost to build a shiplap fireplace?
The cost of a shiplap fireplace makeover can vary depending on several factors, such as the size of your fireplace, the type of shiplap you choose, and whether you plan to install it yourself or hire a professional. On average, the cost of shiplap material ranges from $1.50 to $4 per square foot. It's also worth considering additional expenses such as tools, paint or stain, and any necessary trim or molding. While shiplap can be a budget-friendly option compared to other fireplace makeover alternatives, it's essential to factor in all costs before embarking on your project.
Can you put wood shiplap around a gas fireplace?
When it comes to gas fireplaces, safety is a top priority. Before considering shiplap installation, it's crucial to consult the manufacturer's guidelines and local building codes to ensure compliance. Some gas fireplace models have specific clearance requirements, and installing combustible materials, such as wood shiplap, may not be allowed within those clearances.
However, if your gas fireplace allows for the installation of combustible materials, you can indeed put wood shiplap around it. It's important to maintain the required clearances between the shiplap and the fireplace, venting systems, and any other heat sources. Consulting a professional or reaching out to the gas fireplace manufacturer can provide you with the necessary guidance to proceed safely.
Can I paint or stain the shiplap?
Yes, you can paint or stain the shiplap to achieve your desired look. Make sure to choose a paint or stain that is suitable for wood surfaces and follow the manufacturer's instructions for application.
Do I need to remove the existing mantel before installing shiplap?
It depends on your preference and the design you have in mind. Removing the mantel can provide a clean slate for the shiplap installation. However, if you want to keep the mantel, ensure that it aligns properly with the shiplap boards or make necessary adjustments during the installation process.
How do I ensure the shiplap is level during installation?
Use a level tool to ensure that each shiplap board is straight and level as you attach them to the wall. Adjust as necessary and double-check the alignment periodically throughout the installation process.
Can I install shiplap over a brick or stone fireplace?
Yes, it is possible to install shiplap over a brick or stone fireplace. However, you may need to use adhesive specifically designed for attaching shiplap to masonry surfaces. Ensure the surface is clean, and the adhesive is applied evenly to provide a strong bond.
Should I caulk the gaps between the shiplap boards?
Caulking the gaps between the shiplap boards is a personal preference. Some people prefer the natural gaps for a more rustic look, while others choose to caulk for a smoother finish. If you decide to caulk, use a paintable caulk and apply it neatly to achieve a clean and polished appearance.
Can I install shiplap over a tiled fireplace surround?
Yes, you can install shiplap over a tiled fireplace surround. It's important to ensure that the surface is clean, and any loose tiles are secured before attaching the shiplap. Consider using longer nails or adhesive suitable for tile surfaces to provide a strong bond.
How do I maintain and clean the shiplap after installation?
Regular dusting and cleaning with a soft cloth or a vacuum cleaner brush attachment can help maintain the appearance of your shiplap fireplace. Avoid using harsh chemicals or abrasive cleaners that may damage the wood. Additionally, periodic refinishing or resealing may be necessary to preserve the shiplap's durability and aesthetic appeal.
Can I install shiplap around an electric fireplace?
Yes, shiplap can be installed around an electric fireplace. However, it's crucial to maintain the required clearances specified by the manufacturer to ensure safety. Consult the electric fireplace's installation manual or reach out to the manufacturer for specific guidelines on installation with combustible materials like shiplap.
Remember, it's always advisable to research and consult professionals or experts in fireplace installation if you have specific concerns or unique circumstances regarding your DIY fireplace project.